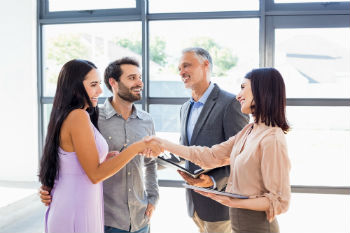 In California, real estate often has multiple owners due to investment structure or inheritance of family property.
Co-owners of California real estate can hold title to the property as joint tenants or as tenant-in-common. These two types of ownership have different legal ramifications and tax treatment. However, under the law, each co-owner has equal rights to the property regardless of co-ownership percentage.
Imagine that Jane owns a house in Palo Alto with her two siblings, Joe and Sam and they hold uneven percentages with Jane having 60% and Joe and Sam having 20% each. Even though Jane holds the majority owner interest, either Joe or Sam can occupy the entire house. It's not like Jane can draw a curtain across 60% of the living and claim that it is exclusively for her use.
This concept of equal access to the property holds true for both renting and selling the co-owned real estate.
That means that Joe could sign a rental agreement for the entire house without Sam and Jane's consent. So while Joe cannot bind Sam and Jane to the contract, he doe have the right to bind the property. Since he has the right to use or occupy the entirety property, the tenant he signs a lease with has the same right. This means that the tenant can rely on Joe's signature on a lease, without fear of eviction from Sam and Jane.
Sam and Jane would then have claims against Joe to their share of the rental value of the home, but not terminate the lease. What commonly occurs is that one co-owner chooses to occupy the entire property, thereby excluding the other co-owners from the use. This type of unilateral act is what causes co-owners to file a suit for partition, to sell the entire property and then have an accounting amongst themselves for the rents and other carrying costs of the property.
Rents in Palo Alto are extremely high, and add up over time. For commercial real estate, the rents at stake are even higher.
In an early case, a California court awarded the co-owner her share of the rents when another co-owner leased the property to his own business venture. Ms. Most owned half of a commercial property in Pasadena, California as a tenant-in-common. One of her co-owners, Mr. Chazan leased the property to his own furniture business, with whom he had a partner (who was not an owner). Mr. Chazan and his partner, Mr. Passman, operated Standard Furniture Company from this property. After a while Ms. Most attempted to raise the rent on the furniture company. Chazan and Passman refused to pay the increased rent. Ms. Most complied with California state law notice requirement to serve the rent increase notice.
The issue before the court – can a co-owner arbitrarily raise the rents and sue for the common property which has been occupied by another co-owner and a third person?
Ms. Most lost at the trial court level on theory that she could not raise rents on her co-owner Mr. Chazan. However, the appellate court considered the fact that while it is well settled law in California that the one co-owner could not charge another co-owner rent, that the partner was a stranger to the property. What does that mean? Passman did not have an ownership in the property. That means Most can sue Passman for the rents. Further, under California law, Chazan and Passman doing business together can be treated like a separate entity such as general partnership. Essentially, the appellate held that Most could make claims against this separate entity, Standard Furniture Company, for all of the rents, including the increased rent.
From a practical perspective, that simply means that though she attempted to raise the rents for the whole property, only her half share would be receiving the increased rent because Chazan would not be paying rent to himself.
Though the case is old, it is still good law and recites the tenets of co-ownership authority. [Most v. Passman, (1937)21 Cal.App. 2d 729, 731]
TAKEAWAY: If you co-own real estate in California with another investor or family member, you should consider entering a Co-ownership Agreement or Tenancy In Common Agreement to set forth the rules for leasing and rents, and contribution of the carrying costs of the shared real estate. Diemer & Wei, LLP can assist you with preparation of these co-ownership contracts.
Contact a San Jose Real Estate Lawyer Today
If you would like to learn more, or need help from an experienced real estate law attorney in San Jose, California, please contact Diemer & Wei online or call our law office at 408-703-1137 to schedule a consultation.