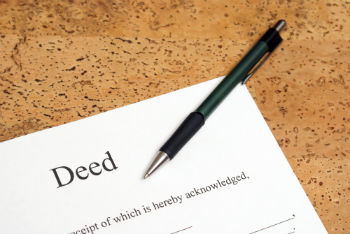 Owners who take title via a foreclosure sale must perfect their title before beginning eviction proceedings. This may seem obvious, but the issue was unresolved in California until just a couple of weeks ago.
What is perfection of title? In this case, it is the recording of the Trustee's Deed. Just being the successful bidder at sale is not enough to run down the courthouse to file an unlawful detainer.
Why is this an issue? Because of the 15 day retroactive language in Civil Code Section 2924h(c) which states the trustee's sale "shall be deemed perfected as of 8 a.m. on the actual date of the sale if the trustee's deed is recorded within 15 calendar days after the sale…"
After the Trustee's sale, the trustee will often take some time to issue the Trustee's Deed Upon Sale, whereupon experienced foreclosure buyers know to rush over to the County Recorder's office to get the Deed recorded. That last act give the owner title retroactively to the date of the sale. For example, if you attend the trustee's sale on January 2nd, and receive the Trustee's Deed on January 10th, if you record that deed by January 17th, the legal effect is as if you became the owner on January 2nd.
In the case of Dr. Leevil, he got his deed recorded within 15 days, but served the Notice to Quit before recordation. He was the successful bidder at the foreclosure sale of Westlake Health in Thousand Oaks. The very next day, Dr. Leevil started eviction proceedings by serving Westlake Health with a Notice to Quit the premises. Six days after the foreclosure sale, his deed recorded. Then Dr. Leevil filed his unlawful detainer lawsuit a month later. Westlake Health lost at the unlawful detainer trial.
Westlake Health challenged the unlawful detainer and the appellate court agreed with Dr. Leevil, finding that California Code of Civil Procedure Section 1161a gave Dr. Leevil the right to continue with a UD so long as the deed was recorded before the lawsuit was filed.
The California Supreme Court disagreed and concluded that the statute CCP1161a required the new owner to record and perfect title before even serving the Notice to Quit.
The Court's reasoning was based on statutory construction of 1161a and it went further to clarify the effect of the 15 day language in CC2924h(c) noting that in order for the retroactive effect to happen, the recording has to happen first. Until then, Dr. Leevil was just the successful bidder at sale, but not an owner with the power to commence an eviction.
Takeaway: In California, serving the Notice to Quit is a commencement of an unlawful detainer and 1161a is a remedy available only for an owner who has recorded their trustee's deed first.
[Dr. Leevil, LLC v. Westlake Health Care Center, (Dec. 17, 2018) Cal Supreme Court No. S241324]