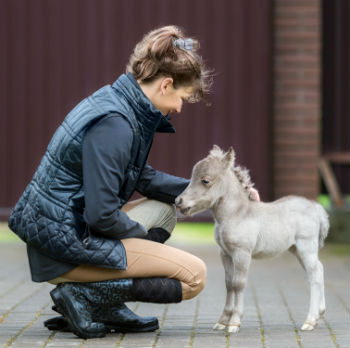 Recently in the news we have seen articles about people traveling with their miniature horses or their pigs. Perhaps you may be wondering why is the airline permitting the miniature horse on the plane? The answer breaks down like this: if it is a miniature horse, it is likely a service animal and if it is a pig, it is likely an emotional support animal.
Here is what the ADA says about Miniature Horses:
"In addition to the provisions about service dogs, the Department's revised ADA regulations have a new, separate provision about miniature horses that have been individually trained to do work or perform tasks for people with disabilities. (Miniature horses generally range in height from 24 inches to 34 inches measured to the shoulders and generally weigh between 70 and 100 pounds.) Entities covered by the ADA must modify their policies to permit miniature horses where reasonable. The regulations set out four assessment factors to assist entities in determining whether miniature horses can be accommodated in their facility. The assessment factors are (1) whether the miniature horse is housebroken; (2) whether the miniature horse is under the owner's control; (3) whether the facility can accommodate the miniature horse's type, size, and weight; and (4) whether the miniature horse's presence will not compromise legitimate safety requirements necessary for safe operation of the facility."
A. Service Animals Are Not Pets.
Many landlords have a "no pets" policy. However, under the Fair Housing Act of 1973, "service animals" are not pets. That means that miniature horses and service dogs, as defined by the ADA as "trained to do work or perform tasks for people with disabilities" are not pets.
However, the lesser known designation of "assistance animals" and "emotional support animals" may confuse landlords.
B. Under State and Federal Law, Landlords Must Comply or Make Reasonable Accommodation For Tenants with Disabilities.:
Federal Law Regulates Housing Providers With Respect to Service Animals and Assistance Animals.
The Department of Justice amended its regulations of the Americans with Disabilities Act ("ADA") to define service animal to include only dogs (notwithstanding the ADA's separate provision for miniature horses). For example, a seeing eye dog would be a service animal trained to provide assistance to individuals with disabilities. Similarly, under the California Disabled Persons Act, a service animal can also include a dog trained to assist with psychiatric disabilities as well.
The DOJ's amendment also expressly excludes emotional support animals. But the ADA analysis is not the only analysis that a housing provider (landlord) must make.
Indeed, the HUD enforcement of the Fair Housing Act classifies "any assistant animal" as a reasonable accommodation that landlords must make to persons with disabilities. "Persons with disabilities may request a reasonable accommodation for any assistance animal, including an emotional support animal, under both FHAct and Section 504." [HUD Memo, U.S. Department of Housing and Urban Development FHEO Notice: FHEO-2013-01]
As expressly stated in the HUD Memo, "An assistance animal is not a pet." Therefore, an "emotional support animal" is not a pet.
A common situation that arises is that if a tenant makes this accommodation request for an assistance animal, the landlord will default to the understanding that the animal is a "pet" and deny the request. This could give rise to an enforcement claim by the HUD if the tenant files a HUD complaint.
C. A Landlord Is Required Under Federal Law To Make Reasonable Accommodation For Tenants, Which Could Include An Assistance Animal or Emotional Support Animal.
Instead, as articulated by the HUD Memo, the housing provider (lessor) must make this analysis:
1) Is the animal a service animal? If "yes", the tenant is permitted by law to have the service animal with him or her on the leased premises.
2) If "no", then the analysis turns on whether this animal is an "assistance animal"?
a. Does the tenant have a disability (mental or physical impairment that substantially limits one or more major life activity)?
b. Does the tenant have a disability-related need for an "assistance animal"?
If the answer to 2a. or 2b. is "no", then the Fair Housing Act and Section 504 do not require a modification to the lessor's "no pets" policy and the reasonable accommodation request may be denied. However, this is a higher risk approach because of the tenant's right to medical privacy, which can make even asking these preliminary questions somewhat dicey.
Let's say for example that the landlord of a 4-unit building has a tenant who requests to have a cat but the landlord has a "no pets" policy. Because it is not a trained dog or miniature horse, the animal is not a service animal. However, if the tenant can demonstrate that the he or she has a disability, and that this cat is necessary to provide assistance or provide "emotional support" to the tenant that alleviates one or more of the symptoms of the disability, this cat would be a reasonable accommodation and federal law requires the landlord to modify or make an exception to the "no pets" policy.
In HUD enforcement against a local landlord in San Francisco, the tenant had resided in the property since 1993. She requested to keep her therapy cat on the premises, which the landlord denied. The tenant supplied numerous medical statements to the landlord, but the landlord served an eviction notice. Ultimately, the HUD enforcement complaint against the landlord alleged violations of federal law, civil penalties, retaliation and discriminatory conduct, and damages. It is not uncommon for settlements of such HUD complaints to be five or six figure sums.
D. Are there any exceptions? Breed, size and weigh limitations may not be applied to an assistance animal.
Instead, the request may be denied if "the specific assistance animal" in question poses a direct threat to the health or safety of others that cannot be reduced or eliminated by another reasonable accommodation. This means that the landlord could not exclude an entire breed, such as pit bulls, but must objectively determine whether the identified assistance animal's actual conduct may cause.
For example, the recent incident where a veteran traveling on Delta Airlines had an emotional support animal. This dog apparently attacked another passenger and sent that passenger to the hospital. In that case, that is objective conduct tied to a specific animal that could establish that animal as a risk to the health or safety of others.
What about a cleaning deposit? No. A landlord may not require applicants and residents to pay a deposit for an assistance animal.
BOTTOM LINE: In conclusion, a landlord may not use a "no pets" policy to exclude service animals or assistance animals. A tenant seeking to keep an emotional support animal may qualify for an exception to any "no pets" policy if he or she can establish the need for one due to his or her disability.